Writing a blog is like being a DJ on the radio: You sit behind your laptop screen, and send out your voice to an unseen audience you pray is there.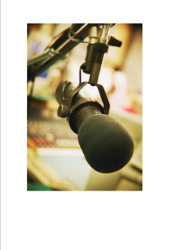 Timing is important. Content and focus are critical. But actually, voice and personality are probably the biggest key to getting people to listen to you.
If you sound like someone we'd like to know, we'll give you a listen. If you talk about interesting, funny, quirky, or provocative things, we'll keep listening.
Authors today are absolutely required to blog in order for an agent or publisher to consider their work. The belief is that if you can't communicate with your audience online through social media, you will not be effective in reaching or communicating with that audience to market your book....and in my experience, this proves true.
Penny Sansevieri of Author Marketing Experts made a point in her recent newsletter that one of the biggest mistakes authors make is believing that the social media or marketing requirements don't apply to them.
At first no author wants to market his or her book. After all, you just wrote the whole book, went through finding an agent, finding a publisher, multiple editing and proofing, production, and finally publication. Whew. It would be nice to sit back a moment and let things happen. I know the feeling. Unfortunately, nothing happens from nothing.
Changing Author Gear
If you see marketing as something your publisher is making you do, you will probably buy a basic website, create a blog that you then won't post to, open a Twitter account that you then won't tweet from, and so on. You're trying to look like you're cooperating. If you're in this mode, you need to decide how much being published means to you.
If you view your website, blog, Facebook page, Twitter, and online writing and reader communities as your way to find and talk to readers and colleagues from all over the country and world who could become loyal readers, you'll get motivated. Writers write for readers. Readers want to find new writers and both want to share ideas and engage. Marketing is people to people.
You don't have to be an extrovert to engage in social media. Social media is the best thing that's happened for introverts like writers! If you blog about what really interests you and you express yourself genuinely, letting your unique voice and personality come through, you will find your way to readers and followers one step at a time.
As in most things we learn, it is learned in the doing. Jeff Goins is a writer whose newsletter you might find helpful and encouraging as you build your success online: How to Build a Popular Blog series.
I wish you "blogspeed" --

Laurie
www.authorbiz.com